A professional clean
If you really want to keep your carpet in the best possible condition and to prolong its life, it will need to be regularly cleaned by a professional using the hot water extraction system. This method (which we use) is designed reach the soil trapped at the base of your carpet's fibres, and to deal with any oil-based soiling: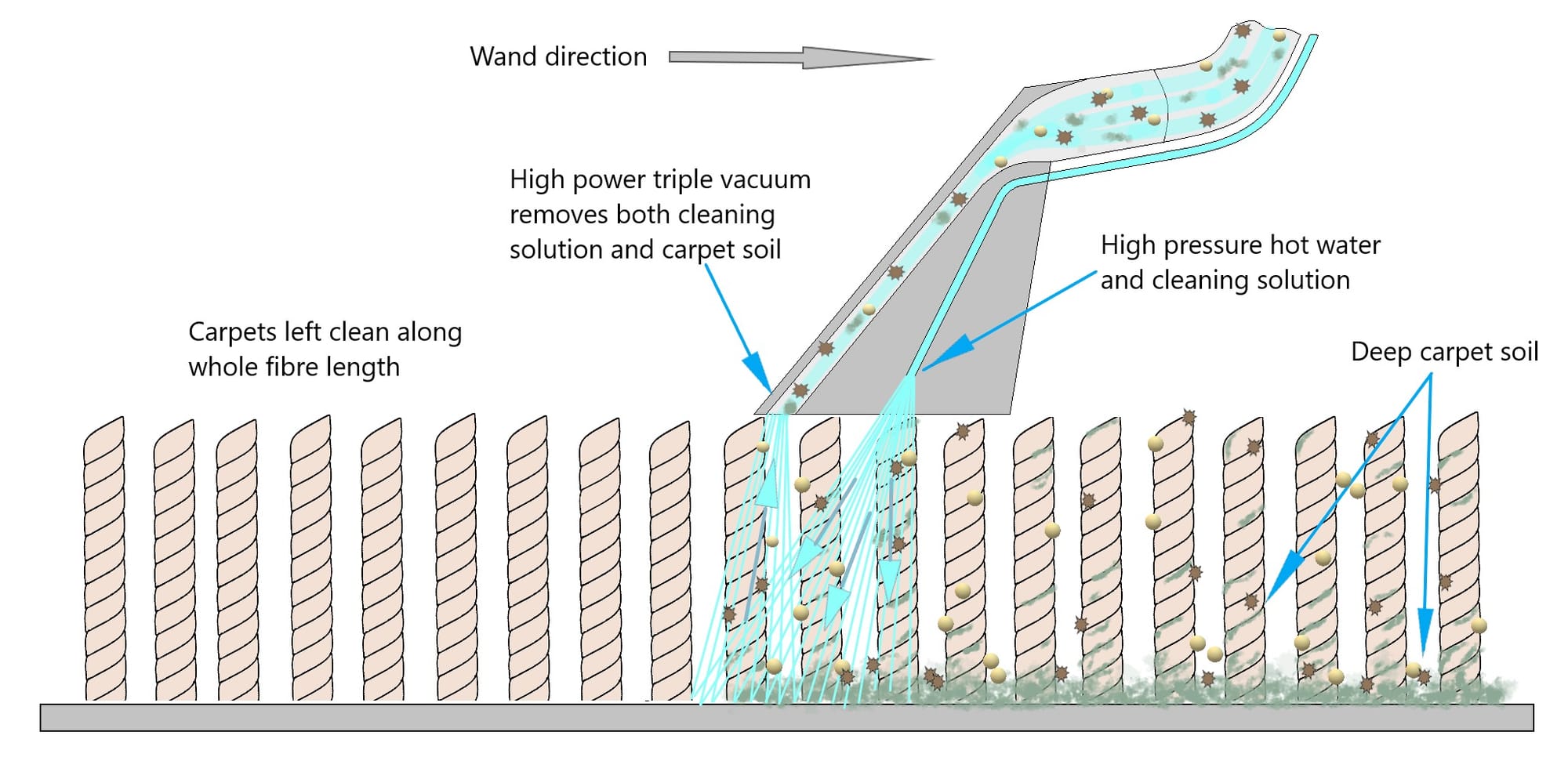 After a professional dry soil extraction and spot treatment, the carpet is treated with a pre-spray, which is then agitated to ensure that it loosens any remaining dry soil, and begins to dissolve any oil, grease and other liquid-based soiling.
Care is taken to select an appropriate chemical that suits your carpet's material, construction, and level and type of soiling. Using the wrong type of chemical can cause irreversible damage.
Next, powerful jets of hot water (usually containing a cleaning and rinsing chemical additive to improve its effectiveness) are fired deep into the carpet's pile, and then immediately extracted using industrial strength vacuums (usually, double or even triple vacuum motors are employed to remove as much of the moisture and soil as possible.
It's important to leave the carpet as dry as possible to avoid the hazards of browning, mildew growth and premature re-soiling. A professional carpet cleaner will have been fully trained to avoid these potential issues.
Where necessary, the professional may deal with any spots/stains that the initial cleaning stages have not fully removed.
The carpet is then groomed to return the pile to the correct orientation.
Finally, fans will be used to speed up the drying process where necessary.
| | |
| --- | --- |
| | |
| Soiled carpet prior to professional clean | The same carpet straight after professional cleaning |
Carpet manufacturers and the carpet cleaning profession advise at least a 12-monthly schedule of regular cleaning to keep carpets in the best possible condition, with a 6 month schedule advised for some carpets in high traffic areas. A professional clean every 12 months, combined with regular vacuuming in the intervening period, is the only way of ensuring your carpets will last as long as they were designed to whilst looking as close to their showroom condition as possible. And it will keep them healthy and smelling fresh and clean too!
Apply a protector
For a small extra charge, it's well worth considering asking your carpet cleaning professional to apply a stain protector. Applied straight after a professional clean, this flourochemical treatment will coat every fibre of your carpet so that it will be virtually 100% stain resistant. It means you can simply mop up the spill straightaway, leaving a clean carpet behind. Again, these protectors are best applied yearly to maintain their effectiveness.